Mort(e)
The "war with no name" has begun, with human extinction as its goal. The instigator of this war is the Colony, a race of intelligent ants who, for thousands of years, have been silently building an army that would forever eradicate the destructive, oppressive humans. Under the Colony's watchful eye, this utopia will be free of the humans' penchant for violence, exploitation and religious superstition. The final step in the Colony's war effort is transforming the surface animals into high-functioning two-legged beings who rise up to kill their masters.
Former housecat turned war hero, Mort(e) is famous for taking on the most dangerous missions and fighting the dreaded human bio-weapon EMSAH. But the true motivation behind his recklessness is his ongoing search for a pre-transformation friend—a dog named Sheba. When he receives a mysterious message from the dwindling human resistance claiming Sheba is alive, he begins a journey that will take him from the remaining human strongholds to the heart of the Colony, where he will discover the source of EMSAH and the ultimate fate of all of earth's creatures.
Praise for MORT(E)
A February 2015 Indie Next List Selection
"After a fantastical leap into an apocalypse of sentient animals, Mort(e) never looks back. Read this novel and you will never look at your pet the same way again."
—Daniel H. Wilson, author of Robopocalypse and Robogenesis
"Absolutely incredible . . .The apocalypse has never, ever been this entertaining."
—BookRiot
"With sly references to Orwell's Animal Farm, debut novelist Repino puts a nicely modern post-apocalyptic overlay on the fable of animals taking over the world . . . an engrossing morality tale with unexpected depths."
–Publishers Weekly, Starred Review
"Devilishly entertaining . . . awfully good . . . a wild riff on interspecies warfare sure to make pet owners think twice the next time their tabby cat darts by. Imagine W. Bruce Cameron's silly and maudlin A Dog's Purpose recast as a violent and frightening post-apocalyptic global battle for the souls of Earth's survivors, layered with a messiah prophecy that makes The Matrix look simplistic by comparison."
—Kirkus Reviews
"Animal Farm set in a postapocalyptic world based on interspecies rivalry rather than communism, with a little religion on the side, this imaginative story can be taken as a somewhat satirical examination of the role of the individual in society. Highly recommended."
—Library Journal
"A beast of a novel that exposes just how beastly we humans really are. Robert Repino's Mort(e) is smart, engaging, and kick-ass."
—Ismet Prcic, author of Shards
"That a novel about the war between ants and humans with house pets as warriors would be so stunningly believable and, above all, affecting, is a testament to what a wonderful book Robert Repino has written. Mort(e) is one of the craziest, most inventive novels I've read in a long time."
—James Scott, author of The Kept
"In our age of first person diary-like-entry novels, Mort(e) is both stunningly original and wonderfully heartfelt. It's a wild ride of a book from a skilled writer I will now be following."
—Shane Jones, author of Light Boxes and Crystal Eaters
"Mort(e) is wonderful and weird, never saccharine and always startling."
—Cat Rambo, author of Near + Far
"Combining elements of Orwellian parable and sci-fi/action thriller, Mort(e) is a tautly constructed indictment of much that is wrong with society, and a celebration of much that is right."
—Matthew Gallaway, author of The Metropolis Case
Get the book:
Soho Press Bookshop  Amazon Barnes and Noble Indiebound
Get the eBook:
Get the audiobook:
Blackstone (narrated by Bronson Pinchot)
Culdesac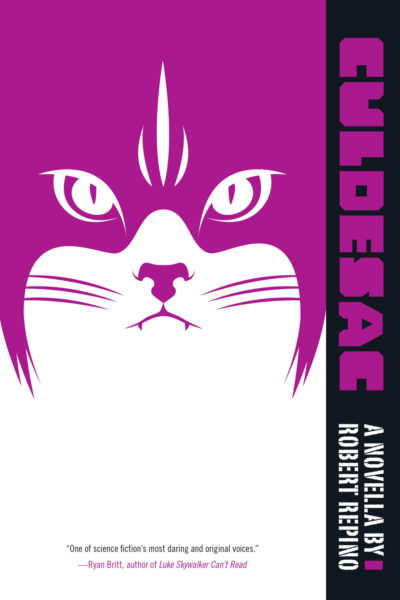 The war with no name rages on, setting the world on fire. Humanity faces extinction at the hands of the Colony, a race of intelligent ants seeking to overthrow the humans and establish a new order.
The bobcat Culdesac is among the fiercest warriors fighting for the Colony. Driven by revenge and notorious for his ability to hunt humans in the wild, Culdesac is the perfect leader of the Red Sphinx, an elite unit of feline assassins. With the humans in retreat, the Red Sphinx seizes control of the remote village of Milton. But holding the town soon becomes a bitter struggle of wills. As the humans threaten a massive counterattack, the townsfolk protect a dark secret that could tip the balance of the war. For the brutal Culdesac, violence is the answer to everything. But this time, he'll need more than his claws and his guns, for what he discovers in Milton will upend everything he believes, everything he fought for, and everything he left behind.
Relentless, bloody, and unforgiving, Culdesac is the story of an antihero with no soul to lose, carving a path of destruction that consumes the innocent and the guilty alike.
Praise for Culdesac

"Repino imbues a startling sense of realism to a story about an intelligent cat's desire to wipe out humanity; Culdesac's story is not only tense and violent, but oddly emotional and touching."
—Tor.com
"Entertaining."
—The Missourian 
"Have you ever wondered what might happen if you raised animal intelligence, stood them up, and made them human-sized? Repino has an intriguing answer. Culdesac is a great entry into his series."
—Steve Perry, New York Times bestselling author of Shadows of the Empire
"Returning to his subversive world of sentient animals, Repino makes you wonder why you'd read books with human characters."
—Ryan Britt, author of Luke Skywalker Can't Read
"The ideas of instinct, intellect, and belief come into play in a postapocalyptic world where bestowing "humanity" on those lacking it may result in extinction for all. This mix of George Orwell's Animal Farm and dystopian sf creates an unusual and unforgettable read."
—Library Journal 


Get the book:
Soho Press Bookshop Amazon Barnes and Noble Indiebound
Get the eBook:
Get the audiobook:
Blackstone (narrated by Bronson Pinchot)
D'Arc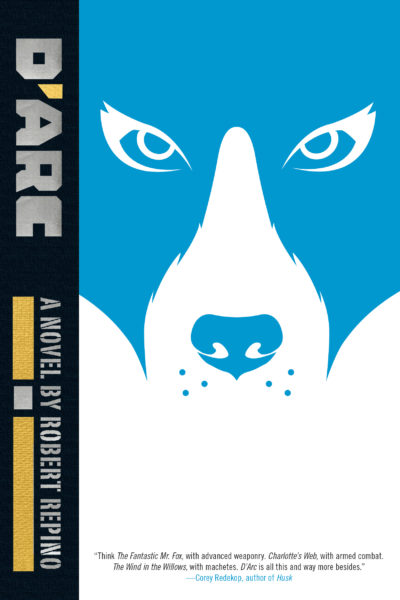 The startling saga of Mort(e) continues . . .
In the aftermath of the War With No Name, the Colony has been defeated, its queen lies dead, and the world left behind will never be the same. In her madness, the queen used a strange technology to uplift the surface animals, turning dogs and cats, bats and bears, pigs and wolves into intelligent, highly evolved creatures who rise up and kill their oppressors. And now, after years of bloodshed, these sentient beasts must learn to live alongside their sworn enemies—humans.
Far removed from this newly emerging civilization, a housecat turned war hero named Mort(e) lives a quiet life with the love he thought he had lost, a dog named Sheba. But before long, the chaos that they escaped comes crashing in around them. An unstoppable monster terrorizes a nearby settlement of beavers. A serial killer runs amok in the holy city of Hosanna. An apocalyptic cult threatens the fragile peace. And a mysterious race of amphibious creatures rises from the seas, intent on fulfilling the Colony's destiny and ridding the world of all humans. No longer able to run away, Sheba and Mort(e) rush headlong into the conflict, ready to fight but unprepared for a world that seems hell-bent on tearing them apart. In the twilight of all life on Earth, love survives, but at a cost that only the desperate and the reckless are willing to pay.
Praise for D'Arc
"Fantastic . . . Well-drawn characters and emotional heft are hallmarks of this unusual series about the power of myth, love, and redemption in a dangerous time."
—Publishers Weekly, Starred Review
"Inventive and astounding. D'Arc maps the aftermath of the 'war with no name' and the attempts of wizened old warrior Mort(e) and his long-lost love, the dog Sheba, to find some kind of happiness for themselves even as unimagined dangers threaten from the deep. Robert Repino's Orwellian saga is at once brutal and hopeful as it explores post-war life, love in all its forms, and what being a person—a new person, in a brave new world—truly means."
—Katharine Duckett
"From Cordwainer Smith's Underpeople to David Brin's Uplifted dolphins; from Puss in Boots to Brian Jacques's Redwall, science fiction and fantasy are replete with sentient beasts, some more humanized than others. But there has never been another series with quite the punch and heft of Robert Repino's War With No Name saga. Its visceral palpability, hypnotic fatedness, and emotional gravitas make it the War and Peace of beast fables. The latest installment, D'Arc, carries forward the future history of this posthuman world with searing action, unexpected twists and brilliant new characters. Think Margaret Atwood crossed with Robert Stone, and you are maybe halfway to Repino's virtues."
—Paul Di Filippo, author of Lost Among the Stars, Ribofunk and A Mouthful of Tongues, among others
Get the book:
Soho Press Bookshop Amazon Barnes and Noble Indiebound
Get the eBook:
Get the audiobook:
Blackstone (narrated by Bronson Pinchot)
Malefactor
The startling saga of Mort(e) concludes!
For the first time since the Colony began its campaign of genocide, the survivors of the War with No Name finally have a fleeting chance to achieve a lasting peace. For both the humans and the animals, the conflict has left deep scars, but it has also allowed both sides to demonstrate feats of courage and compassion that were never possible before the Change.
But many on both sides remain fixated on past violence, and are convinced that survival depends on reverting to the old days of bloodshed.
Skirmishes break out between various wolf clans and beaver gangs in and around the city of Hosanna, threatening to destroy the fragile peace between humans and animals, and housecat turned war hero Mort(e) plans a spectacular heist. Meanwhile, on board the ship the Vesuvius, the resourceful dog D'Arc and her crew find carcasses of enormous flying ants in the middle of the ocean, a sign that apocalyptic war may once again be at hand.